East Coast Doughboys member Randal Gaulke and author Robert Laplander announced today they are leading a tour to France in October. Randal has been running Meuse-Argonne.com and Robert is an expert on the Lost Battalion.
The news from Meuse-Argonne.com:
Tour guide Randal Gaulke is proud to announce that he is teaming up with long-time Lost Battalion researcher Robert Laplander to offer a tour of the Lost Battalion and I Corps areas of the Meuse-Argonne from 4-7 October, 2018.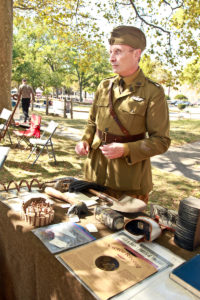 The tour will be similar in structure to the Small-Group Battlefield Walk Series being run by Randal Gaulke and Markus Klauer. However, the entire four days will be concentrated on the Lost Battalion (one full day), other 77th Division sites and other I Corps Division sites and events. Furthermore, tour members will benefit from Robert Laplander's participation in the tour too. Robert likely needs little introduction, as his book, Finding the Lost Battalion: Beyond the Rumors, Myths and Legends of America's Famous WW1 Epic, is now in its third printing.
The organizers anticipate the tour will include the symbolic release of a carrier pigeon from "the Pocket" at 3:00pm on Thursday, 4 October as well as an evening commemoration of the relief of the Lost Battalion at 19h30 on Sunday, 7 October.
Participants should expect to be in the field from 09h00 to 18h00 and portions of the group hikes will take place over uneven terrain and on the steep slopes of hills. Thus, good physical fitness is a requirement.
Tour size will be limited to fifteen participants. Full details and a registration form can be downloaded here.
Don't miss this opportunity to take part in another very unique, hiking-intensive tour–brought to you, in part, by Webmaster and Tour Guide Randal Gaulke.