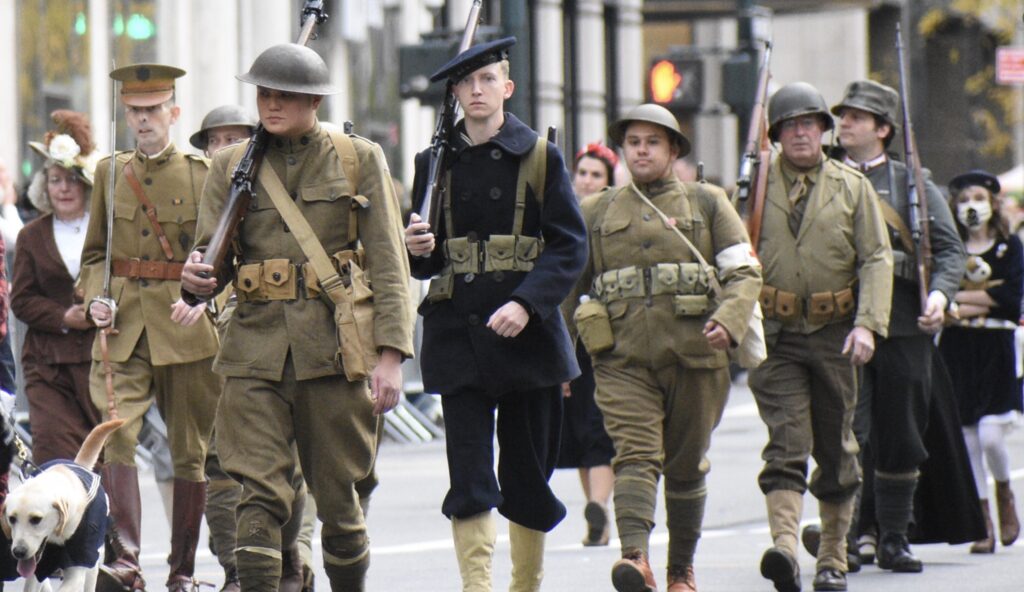 After a one-year break in marching–because the 2020 edition was "virtual" due to the Coronavirus pandemic–the East Coast Doughboys fielded a smaller but not any less energetic turnout for the 2021 Veterans Day Parade on November 11 in Manhattan. It was the smallest turnout in numbers in many, many years. We also had friends from Long Island who chose to march in WW2 uniforms, to mark the 75th anniversary of the end of the war. But we did get a good turnout and made an impression. We fulfilled our mission, to honor and represent the Great War.
We had our Italians with us. We welcomed back the USS Olympia museum ship crew of U.S. Navy living historians, with Seadog Dewey stealing the show. Our civilians were well attired. And our color guard looked great. Of course we returned to our beer hall for post-parade libations.
Look for us on November 11, 2022, when we hope to be back in stronger numbers.
(click to enlarge. Thanks to Tom for the marching photos).