NEW YORK – The Centennial of service members and civilians returning from France to New York Harbor following the Great War in 1919 will be remembered with two days of activities, ceremonies, education, and living history on Governors Island National Monument, September 14 & 15. "Camp Doughboy" will bring together 100 living history reenactors, vintage vehicles from a century ago, exhibitions of equipment, uniforms, and weapons. There will also be two days of cavalry demonstrations on horseback, a vintage bicycle rally around Governors Island, and a cooking demonstration with a WWI U.S. Army field kitchen. A dedicated kids activity area and teacher training are added for the 4th annual weekend.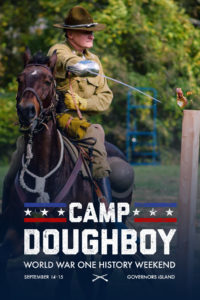 All activities are free and open to the public from 10 a.m. to 5 p.m. on Saturday and Sunday, September 14-15. Ferries are available from Brooklyn and Manhattan every half hour. Ferry schedule here.
"If we want to understand the world we live in today, we must learn more about World War I, and the Centennial is the perfect time to get people's attention," observed Dr. Libby O'Connell, U.S. World War I Centennial Commissioner. "Camp Doughboy gives all ages the opportunity to expand their knowledge of the Great War, and the chance to visit Governors Island as well. We are taking history out of the classroom and opening it up to all."
Camp Doughboy began in 2016 and is today the largest free public WWI exhibition in the U.S. It draws living historians from across the country to tell the story of the war from all viewpoints. Governors Island National Monument will feature the Ebony Doughboys to bring to life the famous Harlem Hellfighters, women in uniform to talk about their role in WWI, the Long Island Living History Association with museum-quality exhibitions and displays, and dozens of reenactors dressed in vintage uniforms. Photo gallery from 2018.
Take the ferry to historic Fort Jay at Governors Island National Monument in New York Harbor. The goal of the weekend is to learn more about the war that changed the world — and gave birth to modern America.
The public is invited to attend dressed in Edwardian attire. Bringing bicycles to the Island is encouraged (modern is fine) for the rally around the 2.2 mile perimeter. Kids and families are welcome, everything is all-ages. Cameras and videography is OK.
PLANNED ACTIVITIES 2019
• Authentic uniforms and equipment from 1914-1919
• The Ebony Doughboys living historians
• Horseback demonstrations by Boots and Saddles Productions
• Women in the war, and on the home front
• Living historians representing Republic of France, United Kingdom and Commonwealth, Imperial Germany, and more
• Ranger talks by the U.S. National Park Service Rangers
• Vintage 1918 cars and trucks
• Volunteers and the Red Cross
• Animals in WWI and their service
• A kids corner and boot camp
• Performances of vintage field music by a drum and bugle corps.
• Teacher training session on Sunday Sept 15
The events are held on the Parade Ground of Governors Island National Monument, a 22-acre park managed by the U.S. National Park Service. The weekend is organized by the East Coast Doughboys reenactor organization, with support from the History Channel.