Our next living history weekend will take us to the Old Rhinebeck Aerodrome, Saturday-Sunday, October 16-17, 2021. World War One and the early days of aviation is the big weekend, which gathers vintage airplanes and classic cars. All WWI impressions welcome. Registration will be required.
The East Coast Doughboys will be participants for two days of exhibitions and WWI living history. Any WWI uniform or civilian impression is welcome to attend; registration will be forthcoming. Camping is permitted on the airfield property.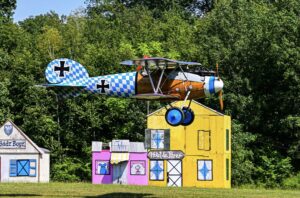 Daytrippers from the Hudson Valley/Catskills and Apple Knockers welcome.
The event will feature WWI aircraft, vintage planes, a 1917 tank and ambulance, and classic automobiles and motorcycles. Each reenactor will make a $10 donation to help support the WWI Museum at the airfield.
The East Coast Doughboys are special guests; any WWI or Edwardian impression is welcome and aviation is encouraged. Exhibition space is available. This is also dog friendly, and we would like to see our War Dogs present.
Overview:
• Airplane rides over the Hudson River are available during the weekend for a fee;
• Visit and tour the WWI Museum;
• The Saturday "History of Flight" air show program highlights the Pioneer era before WWI, a WWI Show teaser, and the Golden Age of Aviation in the '20s and '30s.
• The Sunday Show is a WWI dog fight spectacular with pyrotechnics and a WWI tank. The supporting cast includes many antique automobiles.
• The stars are the historic airplanes including a 1909 Bleriot, the oldest regularly flying airplane in the Western Hemisphere; the Fokker DR-I Triplane, the most famous fighter of WWI; and a precise replica of the Spirit of St. Louis, which was the first aircraft to fly NY to Paris in 1927.
• While aircraft rotate on and off the flight line, usually 15-20 are flyable for shows.
Location:
Old Rhinebeck Aerodrome
9 Norton Rd
Red Hook, NY 12571
Web Site
Facebook Page
Mass transit: You are able to take Amtrak to Rhinecliff station and the airfield is minutes away. We can arrange pickup for ECD in uniform.
The location is 100 miles north of Times Square, 55 miles south of Albany, 189 miles west of Boston).
More information is forthcoming. If you have questions, contact us.