Registration page for reenactors and participants (updated 7/25/2019)
Living history reenactors will bring World War One to Governors Island National Monument on Saturday and Sunday, Sept. 14 and 15, 2019. This is the largest free public WWI exhibition in the United States. Reenactors representing the Allies and Central Powers—as well as civilians in Edwardian Era attire—are invited living history participants. Governors Island is in New York Harbor, accessible via ferry.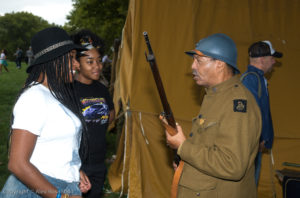 The centennial of the military and civilians returning from overseas is in 2019 and this group of volunteer reenactors will share the story of WWI participants. See living history, weapons and equipment displays, horses, and vintage vehicles.
This is the fourth annual WWI event on Governors Island. The events are free, open to the public, and run 10:00 a.m. to 5:00 p.m. The displays will be on the Parade Ground. Ferries run from Brooklyn and Manhattan. Ferry info here.
If you are a WWI living historian you are welcome to attend. We will bivouac overnight Friday night (Sept. 13) and Saturday night (Sept. 14). All participants must register in advance. Only living history participants are permitted to camp overnight, no exceptions.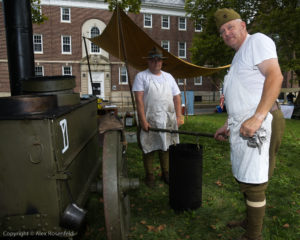 2019 Features
Horses from Boots and Saddles Productions;
Vintage Bicycle Ride, perimeter of island;
WWI U.S. Army Field Kitchen;
Vintage WWI trucks & cars;
Teacher training;
WWI Parade;
Kids obstacle course;
Topic expert talks
Information
Registration page for reenactors and participants
FAQ & Rules
Facebook event page
2018 photo gallery
Direct all questions to event organizer Kevin C. Fitzpatrick, program director for the WWI Centennial Committee for New York City. Contact here.
Participating Organizations
East Coast Doughboys
The East Coast Doughboys launched in 2016 as an organization of World War I living historians. The mission is to connect the community about events in the NY, NJ, CT, and PA region. We support the living history community at events and cultural institutions. All A.E.F. impressions are accepted, women in uniform, and civilians.
Long Island Living History Association
A group of dedicated military historians whose main purpose it to educate the public about military history through educational displays of uniforms and equipment. The goal of the Long Island Living History Association is to keep history alive through the stories of our Veterans.
The Ebony Doughboys
The Ebony Doughboys are a group of African American living historians who are focused on telling the story of the outstanding record of service of African Americans during the First World War. Founded in 2014, the are the offshoot of other African American reenactors who for many years educated and enlightened the public on the involvement of African Americans in WWI.
New Jersey Field Music Group
The only East Coast field music band performing the music of World War I. The New Jersey Field Music Group consists of drums, bugles, and fifes to accurately perform songs from the WWI era.
Boots and Saddles Productions
Founded and run by Long Island living history expert Frank D. Bradford II, Boots and Saddles Productions provides horses to motion picture and television productions. The group frequently rides at U.S. National Parks and demonstrates the WWI cavalry corps.
Supporting Organizations
Governors Island National Monument manages 22 acres containing Fort Jay and Castle Williams. The U.S. National Park Service provides education and historic interpretation of the island.
World War One Centennial Committee for New York City is dedicated to planning, producing, and coordinating events and activities commemorating the First World War in New York City and the surrounding areas.