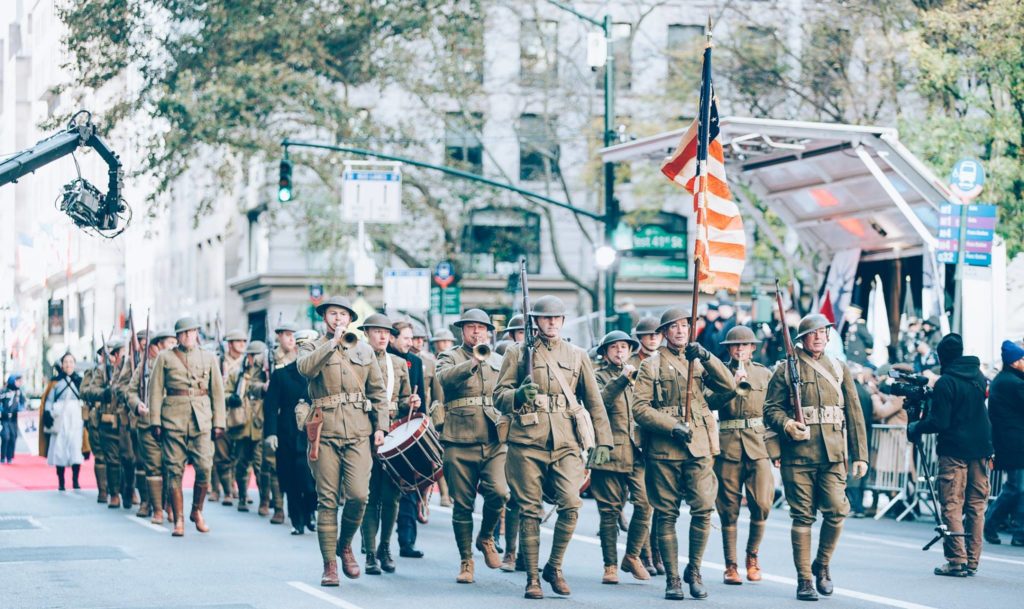 2018 Doughboy March Up 5th Ave NYC
Created and hosted by the Long Island Living History Association.
24 October Update: Download Parade Information Deck from Long Island Living History Association and ECD. All participants must read.
Assembly point: November 11, 2018, Fifth Avenue and W. 24th Street, New York, NY, 10010.
Meeting time: 9:00 a.m.
Annual Veterans Day Parade in honor of all those who served in all wars, most especially, WWI. The parade steps off at 11:00 a.m. from Madison Square Park. It ends on Forty-seventh Street.
Now that the centennial of the Great War is here, we need to have a strong turnout to show the City of New York that the veterans of the First World War are not forgotten. Please consider attending.
As in previous years, please remember this is a parade, not a GWA trench event, so your uniform & equipment must be clean.
* Uniform: M1912/1917 wool tunic and puttees.
* Headgear: Steel helmet and overseas cap.
* Equipment: Basic WWI webbing of cartridge belt, canteen, first aid pouch.
* Haversack set up as a short pack.
* "T" shovel.
* Gas mask bag.
* Weapon: M1903 Springfield or M1917/P17 rifle.
* Bayonet and scabbard.
Officer Impressions: Pistols should be dummies, unless you have a NYC license.
Soldiers from other Allied nations are welcome.
Women & Civilians: If you have a female outfit: Military, Hello Girls (Signal Corps), Red Cross, YMCA etc., that is preferred. If you do not, please wear period correct civilian clothing. Please pass on the invitation to other quality WWI Living Historians.
All web gear must be original WWI or reproduction. WWII gear is not acceptable. No trench knives, overcoats, modern cold weather gear.
You should also have a bayonet and that it fits on your rifle. Original and reproductions, as well as scabbards, are on EBay.
It's nice to be able to fit into an original uniform. However, when it gets to the stage of having more moth holes then cloth…it's time to replace it. Most of these are relatively inexpensive items and completes your impression. It is our intent to have us all portray a proper WWI U.S. group. It would be a disservice to the soldiers we choose to emulate not to look the best we can.
We appreciate your support in this endeavor.
Any questions let us know
Jim Michaud
Jim Lennon
Veterans Day Parade 2017
Photos © 2017 Vlad Kfrg